When we talk about "salad recipes," we often envision mixed salads such as Caesar or nicoise, where the leaves play only a secondary role. It's time to replant lettuce, clover, dandelion, watercress, escarole and other leaves! In a well packed book (Salad, we make a whole dish from itFlammarion, 176 pages, 19.90 euros), journalist Barbara Guicheteau reveals the secrets of these plants to rediscover in season – because yes, leaves also have a season!
Did you know that eating salad dates back to (at least) antiquity? Did the Romans mix arugula with lettuce to enhance its flavor? That in the Middle Ages, we tend to cook salads because raw food had a bad press? That Italians tend to grill or braise most of their cooked chicory and radicchio? That the French grow 5.3 kilos of lettuce per year and per inhabitant and lag far behind the Spaniards?
The book also offers recipes categorized by season, where for once, winter makes you dream with punterelle and capers in its language. While waiting to reconnect with bitter salads, here are three spring recipes to prepare now
Pesto Verde Walnut and Lamb Lettuce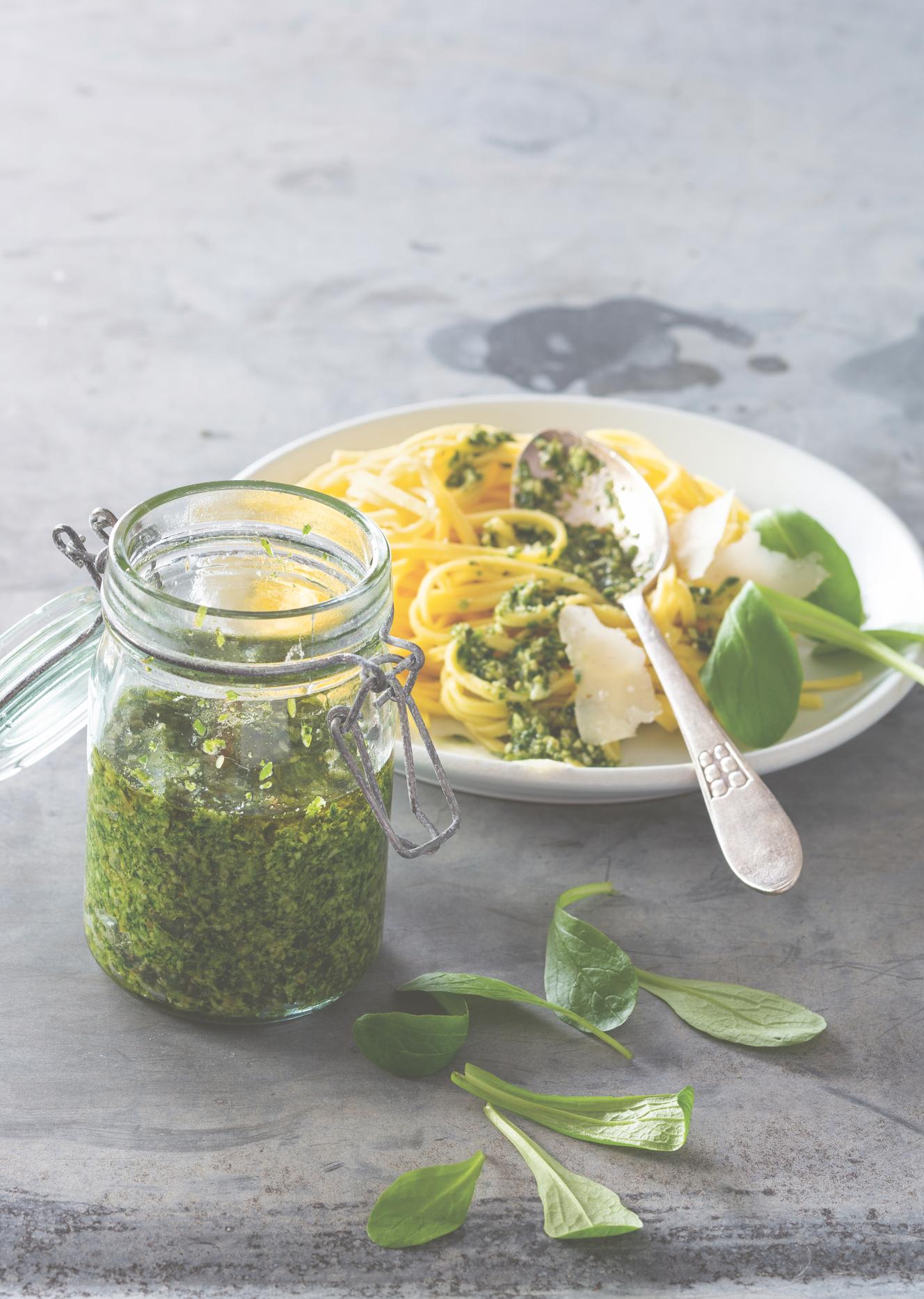 Popular in its Genoese version with basil and pine nuts, pesto can be prepared with arugula, sorrel, baby spinach, as well as various dried fruits: walnuts, pumpkin seeds, peanuts, hazelnuts, pistachios… and perhaps the oils associated with them are more obvious. the taste
Pesto is a good container
Preparation 15 minutes. Cook for 5 minutes.
60g lamb's lettuce (and a few bunches for garnish)
30 grams of walnut kernels
1/2 clove of garlic
30 grams of Parmesan
olive oil 3 cl
1 cl walnut oil
salt pepper
Wash and dry the lamb's lettuce (remove muddy legs if necessary). Lightly toast the walnuts in a dry nonstick skillet over medium heat for 3 to 5 minutes. Let cool.
In a blender (or a mortar with a pestle for the purists – and the brave!), grind the peeled garlic, then the walnuts, grated parmesan, lamb's lettuce and olive oil. Salt and pepper.
Stir in the walnut oil and adjust until smooth and creamy.
This pesto can be used as a garnish for croquettes or al dente pasta (ultimately thicken the pesto with the pasta cooking water), garnished with sundried tomatoes, Parmesan shavings and a few bunches of fresh lamb's lettuce. It can be kept in the fridge under cling film for up to a week so it doesn't darken too much on exposure to air, and up to two months in the freezer.
You have 52.71% of this article left to read. The following is for customers only.