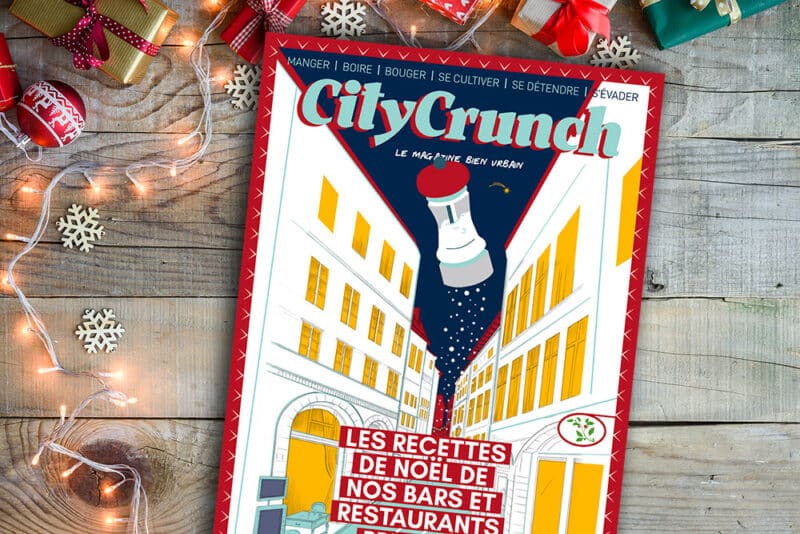 Yes, well, it's still a little early to tell you about old bearded men, decorated trees and presents, but we're still very proud to announce that our Christmas issue was published this morning and is available for free in over 500 places in Lyon.
But there's no need to wait until December 24 to reveal the content we've created for you.
in the kitchen
For this last issue of the year, we've catered to your taste buds by preparing a big file full of Christmas recipes. But, since we don't want to be like everyone else, we ditched the turkey with chestnuts and other smoked salmon. Instead, we asked several establishments in Lyon that we like to offer our unusual party recipes to spice up your New Year's Eve meals.
So, put on your apron and spin the pans, you'll be able to treat yourself to:
Red Nosed Reindeer: A champagne and gin cocktail offered by Tubb

Tiradito of scallops and sea bass from Picaflores

Butternut mousseline with argan oil and foie gras from Ormiellerie
Croc-Brioché with Saucisson Lyonnais de Brio
Butternut stuffed with quince and Viennese tandoori from Botany
Gomex Cantina Turkey Tacos
Yule log by Cité du Chocolat
We hope that with these good recipes, you will enjoy yourself!
But also…
In this issue you will also find:
@Valentin.capp's Leon Dear, fan of Archie, Snickers and Leon
A zoom on the history of Place Carnot
Calendar of outings for the coming week
Our top 5 coffee shops
Our recent favorites for restaurants, bars and other places to go out
An idea for a walk on the Grandes Terraces at the Gate of Lyon
Road to Chamonix
And the exhibition is a mood post without original work
Where to find CityCrunch magazine?
It is available in over 500 locations in Lyon. Should be easy to find with a little eye opening. Otherwise the list of distribution points is available here.
You can download it in digital format here.
And if you are a bar, a cafe, a restaurant, a bakery, a bookstore… and you want to be a distribution point. Fill in these cells.