Tis the season for mushrooms and comfort foods. Cyril Lignac understood this and published, on his Instagram account, one of his favorite recipes of the season: crispy mushroom and cheese tart. But there is no question of rushing for the first plants to arrive. To prepare his dish, the Aveyron chef opts for Paris mushrooms and shiitake mushrooms, grown in an amazing Parisian urban farm, called La Cavern. Each year, more than 30 tons of oyster mushrooms and shiitake mushrooms are produced in this structure, located in the basement of a car park.
For a crispy pastry, Cyril Lignac shortcrust pastry swaps filo pastry.
When it comes to the dough, Cyril Lignac has a trick to making it crisp: He swaps the traditional shortcrust pastry for five layers of layered and generously buttered filo pastry. And for even more flavor, the chef combines the mushrooms with a semi-hard cheese (your choice, tomme, cantal, fontina or raclette) and mozzarella. A gourmet and family meal that would be perfect for a fall Sunday brunch. Accompany of course with a nice green salad and a vinaigrette sauce. Tempted by this creation?
Also to discover: Cyril Lignac reveals his secret to sweet fall tarts and his 4 tips for making it a success
Here's the recipe for Cyril Lignac's Crispy Mushroom and Cheese Tart:
Ingredients for 4 people:
5 sheets of filo pastry
500 grams of button mushrooms
100 g sheet
100 grams of semi-hard cheese (Tomme, Cantal, Fontina, Raclette)
1 ball of mozzarella
1 tbsp. Parsley leaves
1 clove garlic
olive oil
100 grams of butter
+ 15 g for mold
Fine salt and ground pepper
Wash and chop the mushrooms, chop the parsley and set aside. Peel and chop the garlic. Preheat the oven to 185 degrees Celsius.
In a hot frying pan, pour a dash of olive oil, add the mushrooms, season with fine salt and pepper and cook for a few minutes on medium heat. When they have lost their sap, add 1 knob of butter, caramelize with chopped garlic and parsley. Place them on a plate.
Butter a pie pan and melt the butter. Place a first sheet of buttered phyllo on both sides using a brush in the mold, then continue buttering the other sheets of phyllo on both sides and slowly place them on the dish, changing sides each time to form a circle.
Distribute small cubes of semi-hard cheese on the bottom of the mold, then on top of the mushrooms, and finally the shredded mozzarella. Fold the sides of the filo sheets towards the center to seal well and bake for 20 minutes.
After cooking, when the pie is golden brown, transfer it to a serving dish and serve hot.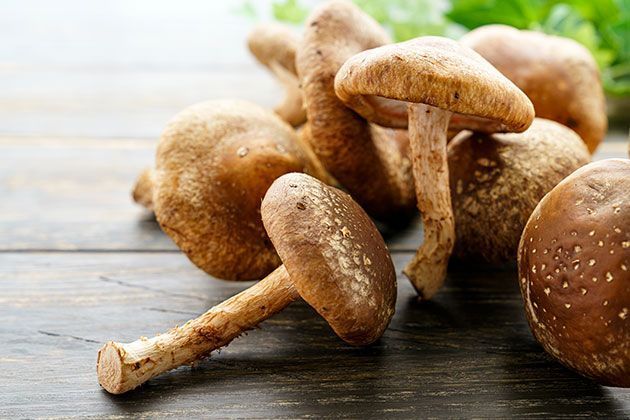 For this fall pie, Cyril Lignac chooses button mushrooms and shiitake mushrooms from urban farms.